Howdy, friends!
Our fun for the day is a package of Wild Bill's Bacon Jerky.  Yes, that's right, another bag of smoked bacon jerky!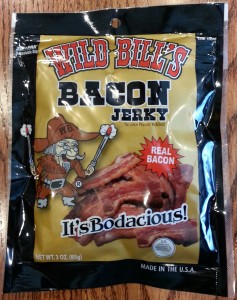 The first time we enjoyed some jerky made from the ever-wonderful bacon it turned out pretty well, so much so that when we ran across this bag of bacon jerky it was pretty well a given that we'd be taking it home.  After all… it's BACON.  So you can imagine our amusement when, upon examination, we notice some striking similarities between this and our previously reviewed Trail's End Bacon Jerky.  With a bit of online sleuthing – and really, this wasn't hard to find – we discovered that Wild Bill's and Trail's End are two of the meat snack brands of Monogram Meat Snacks, LLC out of Memphis, Tennessee.  Monogram Meat Snacks makes jerky under a number of different brands so, after chomping down on this eerily familiar food it became apparent that this was the same tasty bacon jerky we'd already reviewed but in a spiffy new package.
Taking a second pass, there wasn't really anything new to add to the Trail's End Back Jerky review.  This jerky is still quite a treat and bacon lovers will definitely appreciate the novelty of it.  So…
Overall Impression (B-):  If you like bacon (and really, you're reading this site so odds are you do) you'll enjoy this jerky.  It's real bacon, made into jerky, and that is a great thing.  The bacon jerky is tasty, fun to eat, and definitely a tasty treat.  Partake and enjoy!