Howdy!
Today we're partaking of some of Texas Trail Boss' Smoked Pork Jerky purchased at their airport terminal store at George Bush Internal Airport in Houston, Texas.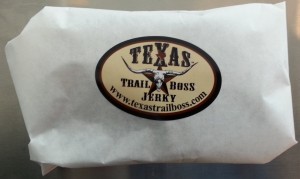 This deli-style jerky vendor offers a small variety of jerkys – beef and turkey on the day we stopped by – with an assortment of flavors.  The woman behind the counter explained that they usually have a few spicy flavors in addition to the 'regular ones', but they'd sold out earlier that day.  The pork jerky looked pretty tasty amid the remaining selection despite the absence of something with some kick to it.  So, is this jerky a mere consolation for the pepper-lovin' crowd or does it hold its own in Tastyville?  Let's see what you get with this one:
Taste (B+):  This is a sweet, but not sugary, smoked jerky with a bit of pepper and garlic savoriness thrown in for good measure.  It has a well-rounded flavor that expertly balances the various seasonings into a cohesive taste.  It tastes very good and definitely takes the already delicious pork and elevates it to something significantly better.
Texture (A-):  This is a natural-style jerky, cut along the grain, that is both tender and easy to chew.  The is a slightly thicker-cut jerky, but it still yields quickly in your mouth and is easy-going on your jaw.  It's a fine example of how to do jerky right.
Smell (A-):  The mesquite smoke comes through loud and clear with this jerky.  Its scent conveys the smoky goodness along with suggestions of the sweet and savory flavor.  It smells really good and totally sets the stage for enjoying each and every bite.
Appearance (A-):  With its light brown color and visible pepper this pork jerky looks great.  The pieces are good-sized – each enough for at least a few bites – with the combination of straight cuts and irregular 'natural' looking edges.  The jerky looks exceptionally appetizing and lives up to the eating experience.
Consistency (A-):  This pork jerky is cut to a uniform thickness delivering consistent moisture and flavor throughout each piece.  This can be a bit tricky with the thicker cuts but the Texas Trail Boss folks do their thing very well.  As you go from piece to piece you get a clear sense that they're paying a lot of attention to quality.  Good stuff!
Overall Impression (A-):  Pork jerky is sometimes among the best of the lot.  It can be tender, holds flavors well, and… well… it's pork!   This pork jerky lives up to its potential as a tender, flavorful treat.  The Texas Trail Boss Jerky folks made a fine food that's a genuine joy to eat.  If you're passing through IAH terminal A you'll do well to stop on by and stock up for the next leg of your journey.   Enjoy!